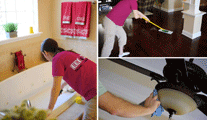 When it comes to how your home looks, you have high expectations. After all, your home is a reflection of you. Which is why you should leave house cleaning to
KKK&Z
Maids, the professional home cleaning service that 98% of customers would recommend to friends and family? Stay awhile and find out why our customers rave about us.
KKK&Z
Maids is the one professional cleaning service that simplifies life by taking care of everything, so you can turn your attention to other matters.….Our clients in Doha Qatar are busy professionals, married with children, and young singles. We provide part time and full time cleaning services for pet owners, parents and those who want to save their energy for things other than cleaning house. All our staffs are uniformed and hygienic, well trained maids at your service, and all of them are Filipinas and speak perfect English.
The experts at The
KKK&Z
Maids deliver quality, trust, professionalism and attentiveness each and every day. We've built our business over the past oneyear and satisfied customer at every time – relying on positive recommendations to spread the word about our thorough house cleaning services. Our service focuses on weekly, biweekly, monthly and special one time cleanings. The cleaning of your home is performed by a two member team. This team is assigned to your home on a regular basis in order to provide a more consistent service.Because your trust, security, and peace of mind are our priority, we are licensed, insured, and bonded for your protection. You will get trusted, trained and background checked employees cleaning your home, never subcontractors. Now you can relax because your home will be safe and clean;
KKK&Z
maid is a dependable company you can trust.